Openprovider offers 2 options for automatic / recurring payments:
Keeping a positive balance
Scheduled payments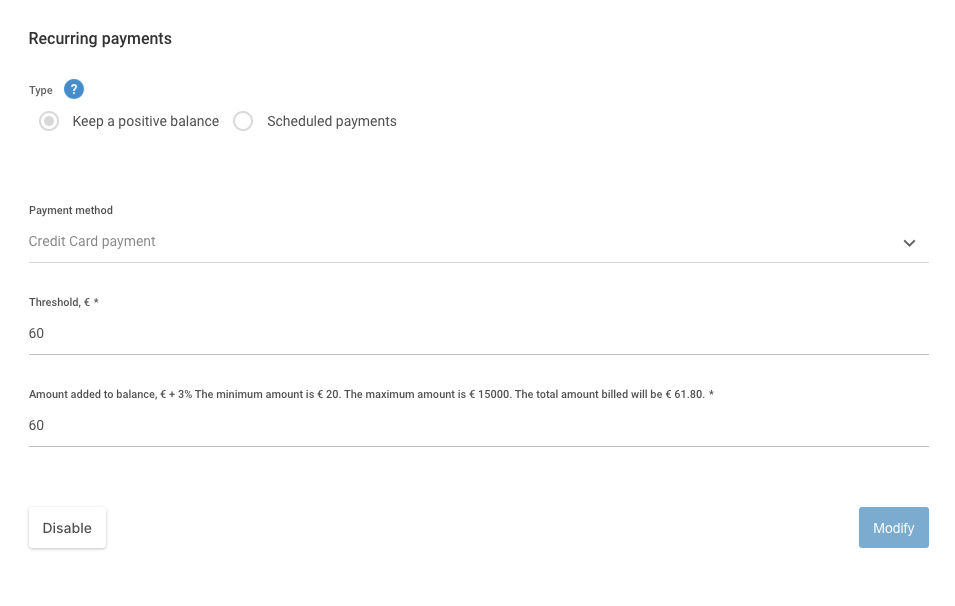 Keep a positive balance
Set a threshold of a balance that you wish to maintain and a payment amount that you want to add to your balance. This scenario is ideal if you want to maintain a certain balance. We check the balance after each billable transaction and automatically execute the recurring payment to top up your balance.
Example
Let's say you want to keep a balance at €500,- and you set a payment of €200. If your account balance drops below €500, your account will be topped by an amount of €200.
In case if your balance drops to €200 in one go, your account will be topped by an amount of €300 to get to the threshold that you have defined.
Note! We advise to set the threshold not too low!
For example, if you set a threshold to just €20 and you have an upcoming renewal of a product of €49, the account balance might not drop below the €20 to trigger the balance increase to cover this renewal. Therefore we advise to use a threshold above the €100 and always keep an eye on the upcoming renewal emails and low balance warnings.


Scheduled payments
Set a specific amount to be added to your balance every defined number of days.
This scenario suits you best, if you know that you normally add, say, €300 every 5 days to your account at Openprovider.
You may stop your recurring payment at any time via your control panel.
A transaction fee (incl vat) may be charged. This will be displayed in the control panel.
Setting up the Recurring Payment
You can find this option in the control panel: Account > Financial > Recurring payments
You are requested to sign the terms and conditions of this service during setup, before the service will be enabled.
Afterwards the signed terms and conditions can be found in the section: Account > Contract > Recurring Payments

We offer Credit Cards (worldwide) or SEPA direct debits (only for EU users)
If you want to enable SEPA Direct Debit, please contact our Sales Team (accounts@openprovider.nl).
You can also set up a direct debit with an iDEAL payment (Dutch users only)
The default option for recurring payments are Credit Cards.


If the option is not yet available in your account, please contact our Sales Department at accounts@openprovider.nl
Change payment details
After saving a payment one cannot change its details (expiry month, expiry year, account number, holder name, etc). The only option to change the current payment details, it to delete the current recurring payment and set up a new one.

Troubleshooting
In case the Create button stays greyed out after filling in the payment details, this means that the provided details were not successfully validated by our payment processor. Please check the details and try again.


Not all card can be used to activate recurring payments.
In case an error appears during the validation of the setup, this means that you card is not suitable. It means that the card issuer does not allow this type of transaction on this card/account.

For example:
- The card is a fleet card for which this type of transaction is not permitted.
- It is possible the issuing bank does not allow recurring payments made to this card.
- It could be also related to the MCC which the issuer might not allow. This refusal is returned directly by the cardholder's bank and Openprovider can't see the exact details of the refusal. More explanation or further details on the refusal, please contact the bank why they refused the payment.

In case this does not resolve your problem, please contact our support department for assistance.