This article describes the procedures and requirements of .fi domain names.
Click on the subject below to open the dropdown for more information.
Registration
Successful domain registration requires:
at least 2 pre-configured nameservers

Finnish private individuals:

passport/ID number
state/province

Finnish companies

company registration number
state/province

foreign private individuals

tech handle must be a company with a registration number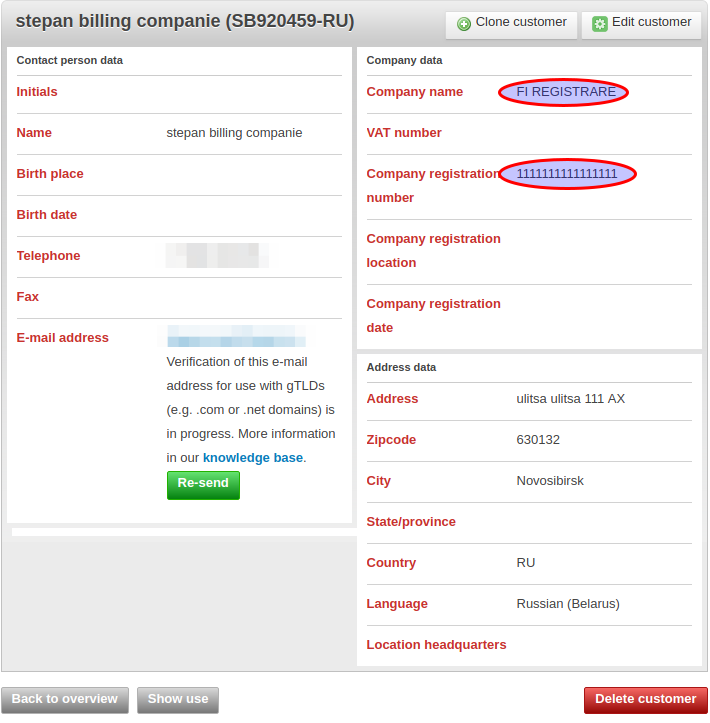 Organization type: "Company" must be selected in additional tech handle details for *.fi. You can find this field in the handle details under the section "additional information" at the bottom of the page.

Transfer
authcode (valid)
transfers are processed in realtime
The registry will not send an email to domain contacts after the transfer finishes.
Make sure to select Company type in Customers overview > Customer > Additional data > .fi
| | |
| --- | --- |
| Authorization code required | yes |
| Method of confirmation | authcode |
| Registration period after transfer | unchanged |
| Average transfer time | Realtime |
| Advanced and simple transfers available | Contact our Sales department to check if easy transfer of 100 or more .fi domains is available. |
Update
Owner change (trade)
requires a special authorisation code (navigate to Authorisation code management page)
registry will not send a confirmation email to the domain contacts after the trade
Other update
domain attributes update - via RCP
Deletion / Restore
Delete
explicit deletion via RCP or API
domain will be put into 30 day redemption period
registrant will not be informed about a deleted/expired domain
Restore / reactivate
reactivation is supported within 30 days after deletion/expiration
Detailed extension information
Registry
Technical information

DNSSEC support: no
Minimum length: 2 characters
Maximum length: 63 characters
Allowed characters: a-z 0-9 -
IDN characters: all Finnish national characters, see https://www.viestintavirasto.fi/en/fidomain/howtogetanfi-domainname/nativelanguagecharacters.html#permittedcharactersindomainnames
Registration period: 1-5 years
Renewal date offset: 2 days
The number of days before the registry's expiration date, that Openprovider requires the domain to be renewed or expired. More info.
Note that the dates as shown in your Openprovider account are always leading, even if they do not match the renewal date offset mentioned here.
Soft quarantine period: n/a days
During this period, following after an expiration, the domain can be restored for free. This period does not apply if the domain is deleted explicitly. More info.
Quarantine period: 30 days
During this period, an expired or deleted domain name can be reactivated at an additional fee.

Restrictions

Local presence required? no
Does Openprovider provide local presence services? n/a
Local activity required? no
Correct nameserver configuration required? no
Correct nameserver configuration required
For registrants that are a company, a company registration number is required.
For registrants that are a private individual, the passport/ID number (Finnish registrants) or birth date (foreign registrants) is required.
The technical contact must be a legal entity; it may not be a private individual company registration number is necessary.
At the time of registration, a domain name shall not be (1) based on a protected name or trademark owned by another party, unless the domain name holder can present a good, acceptable reason for registering the domain name; or (2) similar to a protected name or trademark owned by another party, if the clear intent of registering the domain name is to benefit from it or to cause damage.

Policies

All policies on the registry's website
Premium policy: no premiums supported

Registration agreement

The registry requires that a registration agreement is in place between the provider and the domain holder. The text of this registration agreement and any required supplements is the following: