1) Click "add new domain to filter" in the spamexpert screen in the Control panel.

2) In the next screen enter the domain name.
Select the incoming filter.
Enter mailserver details.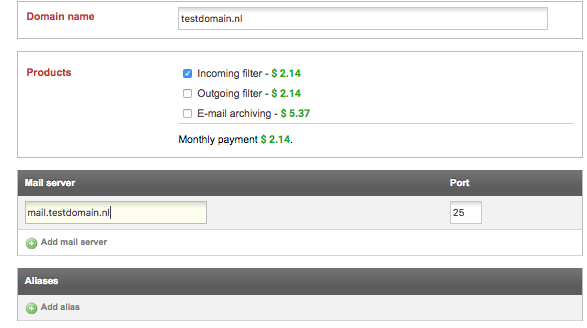 3) Next add mx records to your dns.
mx.spamexperts.com (priority 10)
fallbackmx.spamexperts.eu (priority 20)
lastmx.spamexperts.net (priority 30)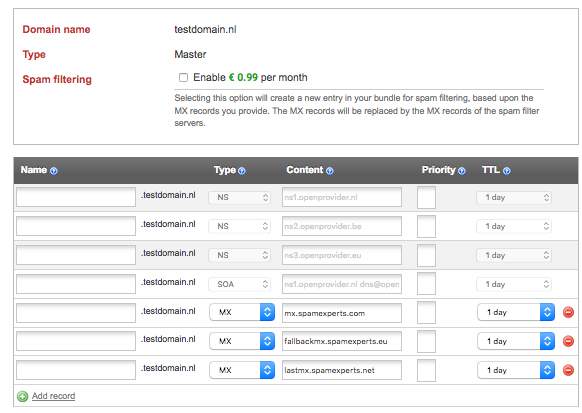 4) Now setup the mail server to accept the spamfilter connections as trusted.
This can be done by whitelisting the domainname delivery.antispamcloud.com in the mailserver.
Or alternatively by whitelisting the ip addresses of the antispam.
You can find them here:
please make sure you subscribe to the rss feed if you use the website so you know when an ip address get added to this list.
5) In some cases spamexperts also needs to be added to the spf record of the domain.
For this add the below spf record:
"v=spf1 include:spf.antispamcloud.com -all"
Or add include:spf.antispamcloud.com -all to your existing spf record.
For more information about the incoming spam filter you can read the knowledgebase article from SpamExperts:
 https://kb.spamexperts.com/29943-outgoing-filtering-service/266327-hosted-cloud-smtp-hostnames#customers
https://kb.spamexperts.com/36678-getting-started/261423-getting-started-with-inbound