Question:
How can I order and configuration my incoming filter?
Answer:
In order to setup incoming filter on domain you need to have a domain.
It does not matter if you manage domain with Openprovider or with an other registrar.
Here is the step-by-step guide:,
1) Log into Openprovider control panel and navigate to "SpamExperts" -> "Add new filter" menu item.
2) On the opened screen:
- enter your domain name
- select the product (incoming filter in our case)
- enter mail-server host address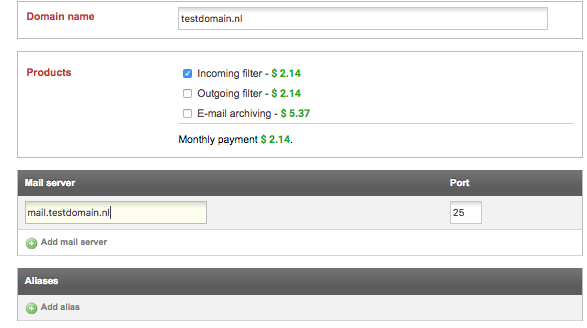 3) Click "Save"
Incoming filter for your domain has been created, but not yet configured.
4) Now you need to add MX records to your DNS zone.
In case if you don't manage DNS zone for your domain with Openprovider - you'll need to configure three MX records:
mx.spamexperts.com (with priority 100)
fallbackmx.spamexperts.eu (with priority 200)
lastmx.spamexperts.net

(with priority 300)
Be sure that you never add your own MX record(s) together with the SpamExperts records: this will result in only partial filtering of the e-mail, and not remove spam completely!
In case if you haven't created DNS zone yet - you need to navigate to "DNS management" -> "New DNS zone" and create new "Master" DNS zone.
In case if you manage DNS zone with Openprovider you should navigate to "DNS management" -> "DNS zones overview" menu item and click on your zone in the list.
Once DNS zone details page is opened - click on "Enable" checkbox. Once page is refreshed you'll see your MX records automatically added to the zone.
5) Now you need to configure your mail server to accept the spamfilter connections and treat them as 'trusted'.
This can be done by whitelisting the domainname delivery.antispamcloud.com in your mailserver.
6) In some cases SpamExperts server also needs to be added to the SPF record of the domain DNS zone.
In order to do this, please add SPF record with the next content:
"v=spf1 include:spf.antispamcloud.com -all"
Or add include:spf.antispamcloud.com -all to your existing SPF record.
For more information about the incoming spam filter can be found in the knowledge base of SpamExperts.