After a hot summer cooling down, the time has come to get back to business. New deals and tons of opportunities are just around the corner!
Domain Forwarding IP Address Update REMINDER
If you use our domain forwarding service for domains running on your own nameservers, remember to update the IP addresses you have configured: from the 4th of October, the only supported IP address will be 34.90.130.132. The old IP address, 34.90.181.29, will be discontinued from that date on and the even older IP address, 52.209.188.36, was already deactivated on the 1st of June.
Domain forwarders that are NOT configured with the new IP address, 34.90.130.132, will stop working on the 4th of October.
However, if you are using Openprovider's nameservers, you won't have to do a thing: we will update the required configurations ourselves and the forwarding services won't experience any interruptions.
You can find more details in our June newsletter.
All EEA citizens can now get a .EU domain!
Since October 2019, citizens of EU member states were made eligible for a .eu domain registration (including .ею and .ευ), regardless of their place of residence. However, there was always one important gap in the policies: while a resident of Norway, Liechtenstein or Iceland (part of the EEA, but not of the EU) was eligible for a .eu domain, a citizen of one of those countries living outside the EEA was not (for example, an Icelander living in Australia).
After the update to the registration policies carried out on the 2nd of August, EURid has finally fixed this issue. Norway, Liechtenstein and Iceland are now officially considered 'countries of citizenship'.
The Reseller Control Panel just keeps getting better and better!
Our development team has been working really hard to bring new functionalities to the Reseller Control Panel and to modernise existing ones. Over the last few months, we have introduced a new Dashboard, a redesigned signup page and a more efficient domain search.
However, there is still much more to come! From now, up until December, we'll be bringing you exciting news about new functionalities that are going to be released!
On a side note, we are aware that some of you might still be using the very first version of the Reseller Control Panel.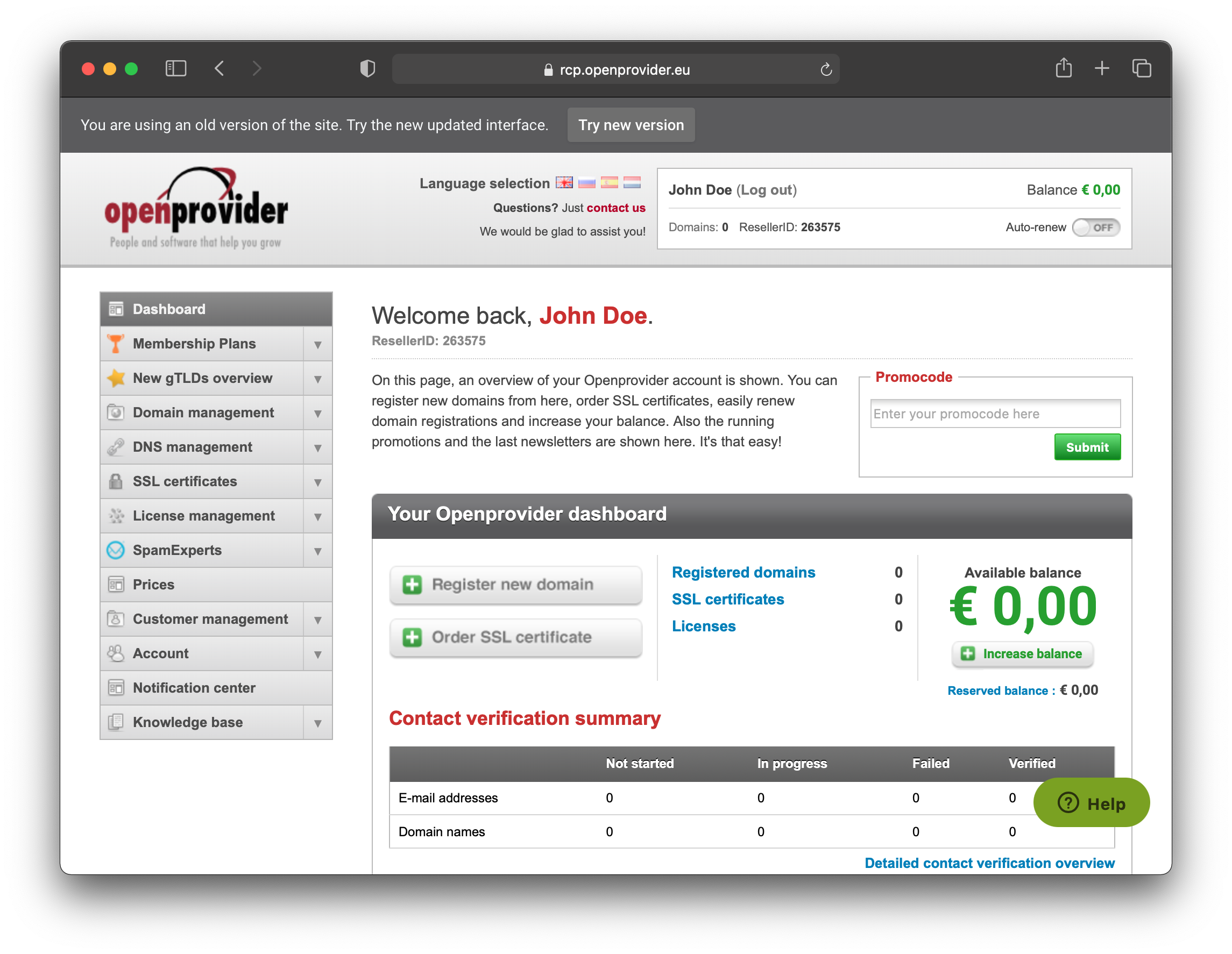 We would like to inform you that we are planning on eventually discontinuing the old version of RCP in order to make our system lighter and faster!
If you haven't done so already, this is the perfect time to switch to the new control panel. Stay tuned to our newsletter and stay up-to-date with all the future updates of the Reseller Control Panel.
Our Premium DNS service is finally here!
A couple of months ago we announced our intentions to strengthen our DNS offering to cater to your growing needs as a reseller, and our teams have been working hard to make this happen. Today we are happy to announce that our new Premium DNS service is finally here!
Openprovider's Premium DNS is the latest addition to our product portfolio. We are extending our successful collaboration with Sectigo, a global leader in SSL certificates and web security products, to introduce a Premium DNS service that will be the perfect complement to our current DNS offering. While our standard DNS service is sufficient for users who only have basic requirements when it comes to DNS resolution, we recognise the increasing customer demands in this area, and are launching this new product to help you fill the gap.
Our Premium DNS service, powered by Sectigo, can satisfy the requirements of your most demanding customers by providing the following benefits:
IPv6 compliant recursive DNS.

Optimization with improved Time To First Byte (TTFB) and Smart Routing, resulting in lightning speeds.

Global Anycast Network that offers closer server location and reduces latency.

Built-in 'on by default' DDoS protection to block attacks.

99.99% uptime guarantee.
As a reseller, this product represents a unique opportunity to create a new revenue stream by upselling a premium service from a globally recognised security brand, and to improve customer retention.
What are you waiting for? Try it now!
Extra eligibility check for .FR
.FR domain name owners (including the registry's other extensions .re, .tf, .pm, .wf and .yt), should reside in one of the member states of the European Union, Norway, Iceland, Switzerland or Liechtenstein. This requirement is not technically enforced by AFNIC (registry); however, the number of checks on .FR domain ownership requests has increased.
For that reason, we have built this same verification in our own system: registering a .FR domain for an ineligible domain owner will result in an error from now on, as will requesting an ineligible domain transfer or update.
Existing domains currently connected to an ineligible registrant will not be affected, but should you carry out an update, the domain owner will need to be corrected. Note that you can always use our trustee service if your customer has no eligible address.
Openprovider joins SIDN's LEMMINGS pilot
SIDN Labs, part of the .nl registry SIDN, are constantly working on making the .nl zone safer and more secure. One of their latest projects is called LEMMINGS. The goal of the project is to prevent cybercrime after domain expirations and deletions and has already been meeting expectations since June through an internally-run pilot.
The project came to exist due to deleted domains being used with ill intentioned purposes. For the .nl zone, well-known cases are domain names from the Dutch police and a healthcare organization, through which sensitive information was disclosed. A more personal type of example is a domain that is linked to a social media account. If this domain expires and is re-registered, the new registrant will be able to receive any email sent by the social media platform, including password resets.
How does LEMMINGS try to prevent this from happening? SIDN Labs monitors the DNS traffic of all .nl domains during their quarantine period. Any MX query seen for such a domain name indicates that someone is trying to send an email to the deleted domain. After filtering out spam, marketing mailings, emails from social media platforms and other forms of bulk messaging, SIDN Labs can determine if the remaining email is legitimate (defined as email deliberately sent to an individual recipient by a person or entity).
Want to know more? Check SIDN Labs' website!
Get your .COM domains for $8.03 this September!
On the 1st of September, 2021, the .COM registry (Verisign) made their previously announced price increase a reality, raising the price of every .COM domain by 7%.
However, at Openprovider we thought we'd keep the party going for another month, meaning that for a limited time only (until the end of September) you can still pay $8.03 for new, first time .COM registrations!
The opportunity is yours to take, so it's up to you to make the most out of it. Start buying .COM today and make a nice profit tomorrow!
Top TLD weekly promotions have landed at Openprovider!
Starting next week, at Openprovider we've decided to offer our resellers unique weekly deals on top TLDs! We'll be running this Top TLD campaign for 10 weeks, offering a total of 10 amazing promotions to help you expand your domain portfolio and make some extra margin while you're at it!
The first TLD that we will be offering at a reduced price is .SHOP. Stay tuned for our upcoming email to get the most out of this one-time opportunity!
Updates to new gTLDs
.spa

has confirmed its definitive date for the General Availability: this will be the 12

th

of October. The Landrush will end on the 1st of October, this is unchanged.
Landrushes:
General Availabilities:
1 September: .com

1 September: .xyz

1 October: .agency, .business, .church, .company, .consulting, .digital, .education, .email, .family, .games, .group, .guru, .international, .live, .ltd, .media, .network, .news, .ninja, .photography, .rocks, .solutions, .studio, .support, .systems, .technology, .tips, .today and .video

1 January: .wien