It's hard to keep cool this summer with all the exciting things happening in the domain industry. Here's what you need to know!
Price drop this quarter!
Our commitment to seeing our members grow with us and helping them maximize their profit has led us to lower the prices of three of our extensions. The new prices will 'go live' on the 1st of July 2021:
| Extension | Current price | Price from the 1st of July |
| --- | --- | --- |
| .ae | AED 118.52 | AED 114.71 |
| .cz | CZK 223.00 | CZK 209.00 |
| .dk | DKK 49.52 | DKK 49.30 |
The domain extension update month is here
This month is packed with updates to various extensions. Find everything you need to know right here:
.es

: the Spanish registry has improved its contact handling. Updating the address and telephone number information is now possible. However, it's still necessary to assign a new handle to the domain name in order to change the email address. This feature applies to all contact information updates done after the 3

rd

of June.

.de

: authorization codes are valid for 14 days now! Up until now, they were only valid for 1 day, which although very safe, also required our resellers and domain holders to act promptly. This was not always possible and, after listening to customers' feedback, the registry finally decided to change it.

.co.il

: the 90-day soft quarantine period is no longer supported. co.il domains can be restored at an additional fee for 44 days after being deleted.

.az

: our supplier announced a last-minute price increase, effective from the 1

st

of July 2021. The price for .az registrations, renewals and transfers has increased by €25,00 for all Tiers and Supreme members.

.рус

(.xn--p1acf): the registry will change its premium pricing on the 13th of January 2022. Currently, premium domains are expensive the first year ($210-$42,000) and can be renewed at the regular price ($8). The registry is lowering the first-year fee ($80-$2,700) and changing the renewal fee to make it match the (premium) registration fee. Domain names registered before the 13th of January 2022 will continue to be renewed at the old (standard) price.
Multi-year SSL certificate orders are changing
Because of the limited 1-year validity of SSL certificates, multi-year SSL certificate orders issued after the 18th of August will be configured as 'subscription SSLs': a series of one-year SSL certificates reissued annually. These SSL certificates will need to be re-validated and reinstalled every year, even if you order them year after year. Take a look at our Knowledge Base for more detailed information.
Brexit update for .eu domains
On the 1st of July, EURid (Registry) implemented the next step of its Brexit procedure: all .eu domain names that were registered by registrants of the United Kingdom or Gibraltar have now been withdrawn. Those domain names had already been suspended on the 1st of January. Contrary to the registry's original plans, they have made it possible to recover a withdrawn domain name (even after the 1st of July) by its last holder in exceptional cases, provided they can present registration data that meets the .eu eligibility criteria.
If the last holder of a domain name wants to recover it, they must contact EURid directly and follow the recovery procedure. This means that they will have to submit a request to be evaluated by EURid. If granted, EURid will activate the domain name with the provided registration data by moving it to a dedicated EURid Brexit holding account. The status of the domain name will be updated to 'registered', and a one-year period will be added to the registration.
The domain name holder will then be invited to log in to their My.eu account (using the email address provided in the request) and will obtain a transfer authorisation code that can be shared with Openprovider for a regular transfer.
An active Brexit domain name that has not been transferred to an accredited registrar by the 31st of December 2021 will be revoked with the rest of the Brexit-withdrawn domain names, and subsequently made available for general registration on the 1st of January 2022.
Feature spotlight: premium domains in WHMCS
Did you know that you can provision premium domains via the Openprovider domain module for WHMCS? Configure your module to sell premium domains in just a few minutes. The margin on these domains can be significant, with prices ranging from hundreds to thousands of dollars.
Beyond just the potential margin, enabling premium domains ensures that your clients see all possible domain types. You don't want your clients to see that premium domains can be found on other sites but not on yours, right?!
Just make sure that the currency you have in your Openprovider reseller account is configured in your WHMCS instance, and then follow these three steps from the module documentation.
.io promotion update
Great news! The ongoing .io promotion by ICB (Registry) has come to an end and, as a result, pricing has improved for new registrations, transfers and renewals. Since the 1st of July, Members now only pay $30.00 for their .io domains.
Signing up to our Reseller Control Panel just got easier!
This month new users signing up to Openprovider through our Reseller Control Panel (RCP) are in for a treat! We've improved our sign up experience to make sure nobody gets lost and everything goes as smoothly as possible.
New users who sign up through our Reseller Control Panel (RCP) are welcomed by a new screen, with a modern and fresh design.
The new RCP signup flow is faster, easier and mobile friendly.
Are you as excited as we are? This is just the first of a long list of improvements that Openprovider will roll out over the next months.
New products will be added and existing features will be redesigned. Stay tuned to our newsletter for all the latest updates!
The Openprovider control panel is getting a new help system
The Reseller Control Panel (RCP) allows you to handle large domain portfolios, create DNS zones, customise options for your account and so much more.
Over the last month, we have received feedback from our support team confirming that there are some parts of the control panel that a lot of users need help with. Therefore, we have decided to introduce a new help system which will provide context-based information for the specific areas we get a lot of questions about.
The new help system is currently under development and is planned to be released this quarter. We will keep you informed about the development of this new feature and we look forward to hearing your feedback once it has been released.
Simplified domain synchronization is here!
Have you ever encountered a situation where the domain data at the registry was different from the data stored by Openprovider? It rarely occurs, but if you're 'unlucky' enough to see this happen with one of your domains, know that we've come up with an immediate solution: simply click the "Synchronize" button in the domain details page to force the registration data to be re-sent!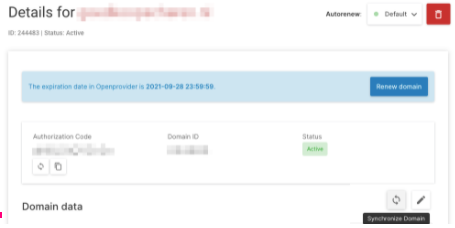 Enhancing your brand image via BIMI
Brand Indicators for Message Identification, more commonly known as BIMI, is a new email standard that works in combination with other specifications like DMARC, SPF and DKIM to allow brands to display their authenticated logos in supporting mailboxes for email messages coming from their domains. If the recipient of your email is using a mailbox provider that supports this technology, and your email meets certain authentication criteria, then your logo will appear with your email, creating a stronger brand presence and increasing your customers' trust in your brand.
BIMI is backed by industry leaders like Google, Mailchimp, Fastmail and SendGrid (a Twilio company), and several mailbox providers like Verizon have announced their intentions to adopt and support this standard.
BIMI relies on DMARC: for your logo to appear with your email in the customer's inbox, that email needs to have passed all DMARC authentication checks, and the DMARC policy for your domain needs to be set to 'quarantine' or 'reject'.
BIMI leverages the DNS infrastructure to make it easy and convenient for brands to manage their logos. Enabling BIMI only requires you to publish a BIMI record to your domain's DNS zone. This is a simple TXT record that points to your logo in SVG format.
Build a more secure and trusted brand by deploying BIMI!
Updates to new gTLDs
XYZ (Registry) has relaunched the .homes, .autos, .motorcycles, .boats and .yachts

extensions. The relaunch includes a price drop for every extension ($10.17 for Members) and a change of the premium policy. The premium price is charged for renewals as well (at the previous registry operator, it was a one-time premium fee). For existing premium domains, the renewal fee will still be the old renewal fee ($50.18 for .autos, $25.18 for the other extensions).
Sunrises:
General Availabilities:
Upcoming price changes:
1 July: .ae, .cz and .dk

1 July: .io

1 July: .hamburg

1 July: .club

1 September: .com