Question
What is the IP binding for Plesk licenses and how does it work?
Answer
There are two possible behaviours of "IP binding" feature:
This behavior is the default one and is useful for cases when you need to reinstall Plesk on the same server. For example, you have a Plesk server with a production license that is bound to the server IP address. After you reinstall Plesk, you get a clean Plesk instance without any data and license file. Plesk will connect to the Key Administrator and get the license file with the server IP address.
In addition to the "reinstall" scenario, this behavior also includes the "restrict" scenario. It allows restricting a Plesk license for use only on one server.
IMPORTANT:
All licenses purchased through Openprovider have "Lookup and restrict" behavior enabled by default. If you wish to change it, please contact our support.
Is it possible to bind the IP from the control panel, when purchasing the license: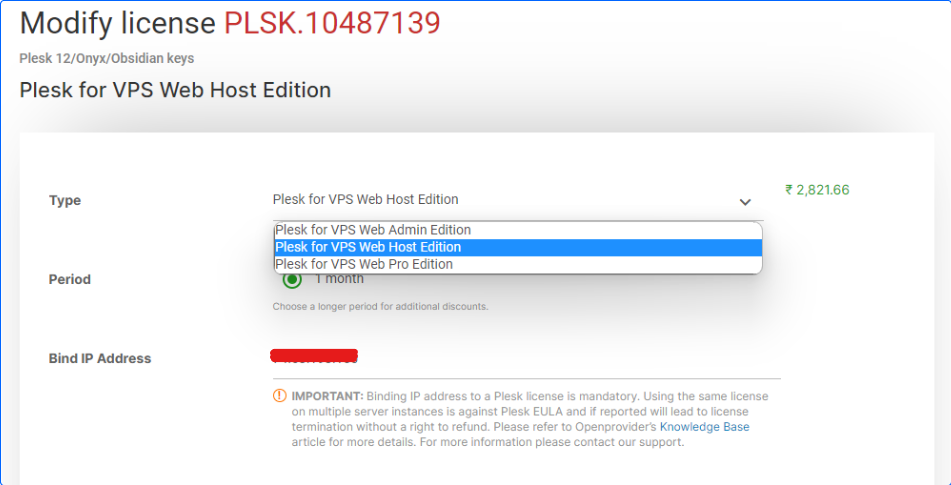 From now on all licenses created and renewed will be automatically bind to IP address. This means that once customer enters activation code and activates the license on the server, Plesk automatically connects to Plesk KA and binds license to the IP of the server.
In order to use that license with another server, it is possible to change the IP from the control panel, by clicking on the license and "modify". There will be possible to update the IP.
IMPORTANT:
Please keep in mind that since "automatically bind to IP address" feature was released, there are no full or partial refunds once the license has been marked as fraudulent due multi-use.