In this article we'll explain how to contact support, our support SLAs, and abuse procedures. 
Email
Contacting our support department mainly goes through email. When contacting us by email, remember the three W's of support:
Who 
When sending us an email, be sure to send it from an email address that is registered with us and include your reseller ID in the email. This allows us to find your account, and help you faster. 
You can find your reseller ID on your dashboard: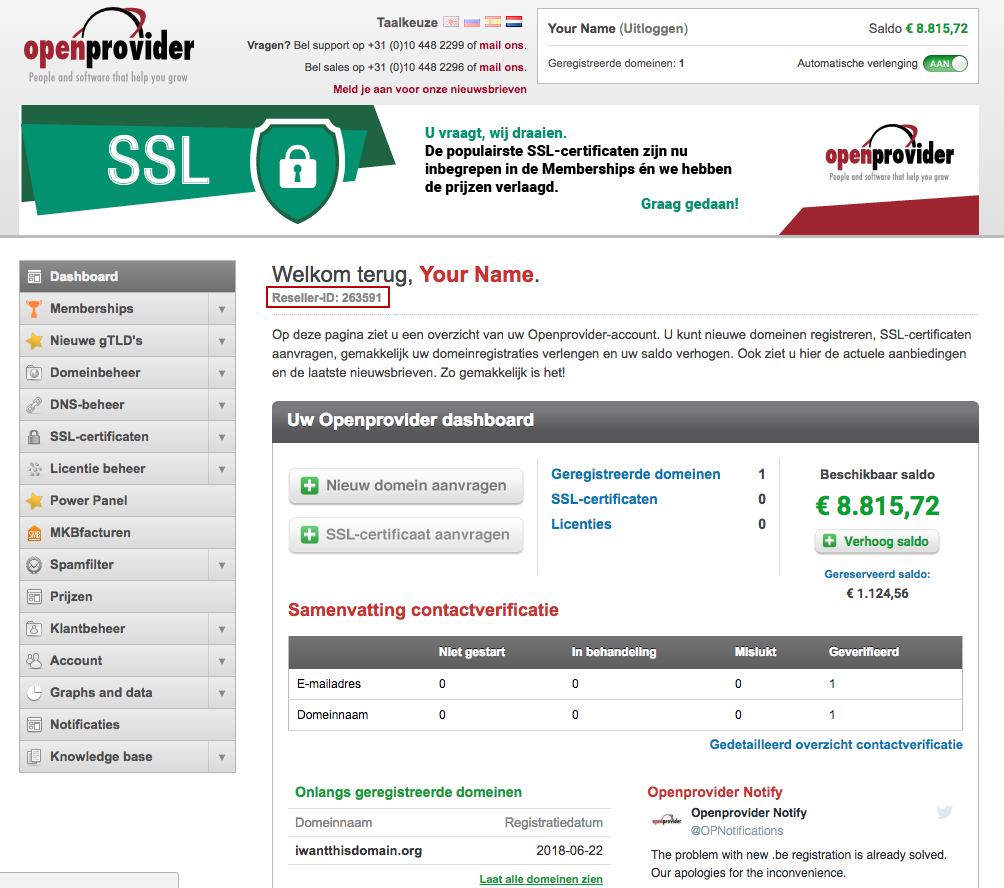 What
Describe your issue in as much detail as possible. This means domains, screenshots, order IDs, API calls, API responses, etc. 
There's one rule you need to follow here: we need all the information required to be able to reproduce the problem. If we can reproduce the issue, we can also solve it. 
When
Besides who and what, we also need to know when something occured. If we have all variables of an issue, solving it will be that much easier. 
By sending an email, you open a ticket with our support department. Shortly after opening a ticket, you'll receive an auto-reply on your email with your ticket ID.
We use this ticket ID to track your ticket, so whenever you decide to call us, have your ticket ID handy. 
You can reach support through email:
support@openprovider.ru
support@openprovider.nl
support@openprovider.com
Service Level Agreements
For tickets we strive to maintain the following service level agreements:
Emails will be answered within one working day, or 8 business hours. Follow-ups on the same email will be answered within two working days, or 16 business hours*. 
*These response times may vary when your ticket is escalated to our second-line support. 
Phone
It's also possible to contact us by phone. Use this for urgent cases only and remember to keep your reseller, and ticket ID handy, as we need this to be able to help you by phone. 
You can reach us on weekdays from 09:30 - 17:00 CET.
On Fridays our office has a meeting, and is unavailable by phone from 11:00 - 13:30.
Abuse
Complaints about fraudulent webshops, phishing, and copyright violations will not be handled by our support department, but by our legal team. 
Our legal team is only available by email.
Please read this article about how to submit an abuse complaint.