Question
How to set up automatic domain renewal?
Answer
Domain names can be automatically renewed. This saves you a lot of work because you do not need to renew each domain individually when it reaches its expiration date.
Your account will have a default auto-renew setting that will be applied to all domain registrations when you register them.
Account automatic renewal settings can be viewed and changed from the Openprovider Control Panel: Account >> Account Overview >> Settings >> Auto-renew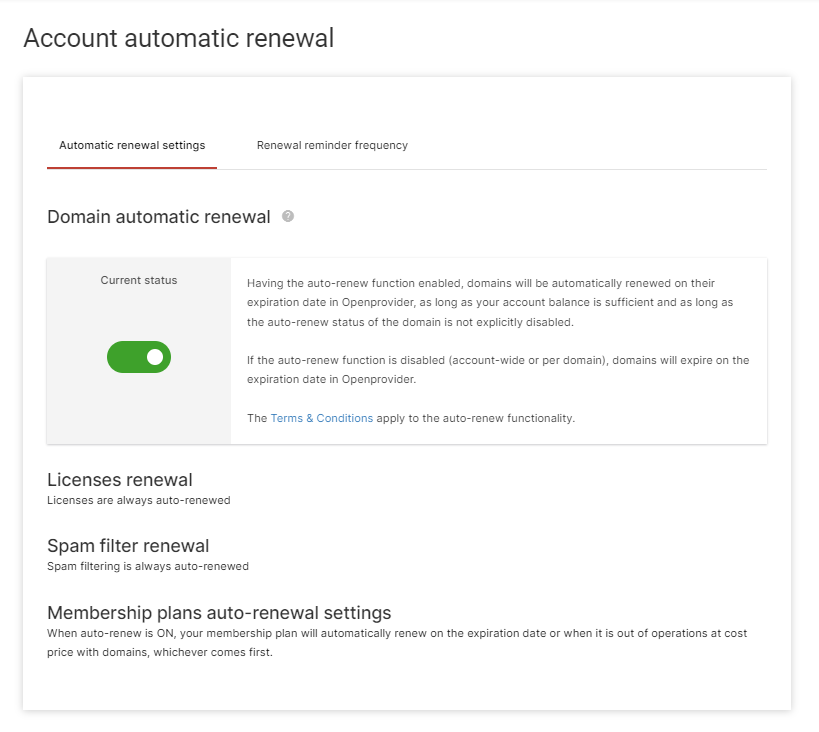 We recommend keeping the Auto-renew on at all times. The costs for accidentally renewing a domain name are far lower than the potential cost and headache that is caused by accidentally not renewing a domain name.
It is possible to set auto-renew setting per domain. Navigate to Domain Overview and change the auto-renew setting of the specific domain name to one of the following three options:
Default: This setting will take the default account setting and renew domain names accordingly. If you have auto-renew disabled for your account, then all domains with the setting 'Default' will not be automatically renewed. If your auto-renew setting for your account is enabled, then all domains with the setting 'Default' will be automatically renewed.
On: This domain will be automatically renewed.
Off: This domain will not be automatically renewed.
Switch these states by clicking on the icon in the Domain Overview in your account, making it easy to change the configuration where needed.
To renew a domain name directly, click on the green arrow icon in the Renew column. Be aware, this action is real-time and can not be reversed.