Question
How to transfer a domain?
Answer
Transferring a domain from the control panel is very easy. Please, watch this video and follow the instructions.
As can be seen on the video, in order to transfer a domain you should follow these steps:
1. Go to Domain management > Transfer
2. Search the domain you want to transfer. Domain must be registered if you want to transfer it. If the domain is free you will get the error "The domain you want to transfer is free."
3. Click on Transfer this domain.

4. Add the authcode if needed. Some TLDs even require an authorization code that only the current registrar can supply. The "transfer on" section is optional in case you want to start the transfer on a date in the future. If you leave it open, the transfer is started directly.
Price of the transfer is also shown. Depending on the extension, the transfer is free (domain is not renewed) or you will have to pay for it (domain is renewed).

5. Add all the contacts: owner, administrative and technical. If contacts are not created, can be created by clicking on the green arrow.
6. Add the name servers you want to use. To use your own DNS, select "No nameserver group". But you can also use the Openprovider name servers if you want.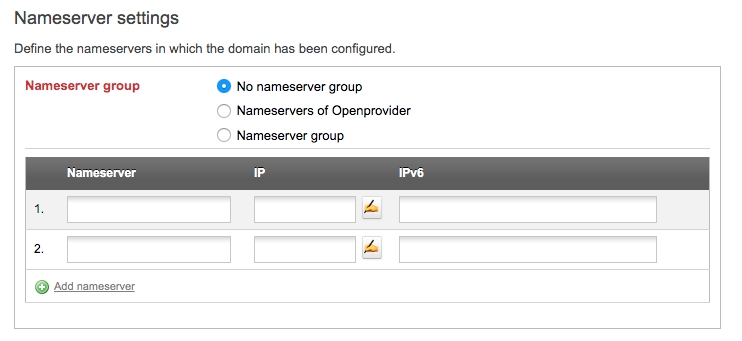 7. Once everything is completed, click on Start Transfer.
Please, keep in mind that due to the many different types of rules concerning domain name transfers it is not possible to make an article covering all possibilities. When in doubt you can consult our documentation about TLDs where we list the procedures for most TLDs we can offer. This documentation can be found here. Please note that you can also search in our knowledge base by simply typing the TLD in the search bar at the top of this page.
In general, a few things can happen when transferring a domain name.
A transfer code can be needed
The owner may have to approve of the transfer by clicking a link that is sent to them
Signed forms may be required
..procedures can differ
Check the TLD documentation for the domain in question to check what the procedures are. The documentation also tells you how long a transfer can take.