Question
Does Openprovider charge VAT when purchasing products?
Answer
It depends on your location and if you entered a VAT number in your account, if VAT charged or not.
Here is a short overview with the rules which are followed:
Within the Netherlands: VAT is always charged
Within the EU, without valid VAT number: VAT is charged
Within the EU, with valid VAT number: No VAT is charged
Outside the EU: No VAT is charged

Openprovider will periodically check the VAT numbers in our systems and the European Database and notify the reseller if the number is no longer valid. If the number is no longer valid, it may cause VAT to be charged. As long as the VAT number is valid, you have nothing to worry about.

After Brexit, UK consumers are still charged VAT, UK businesses are not charged VAT when they have their valid VAT number added in their account.


The VAT number can be entered on this page in the RCP: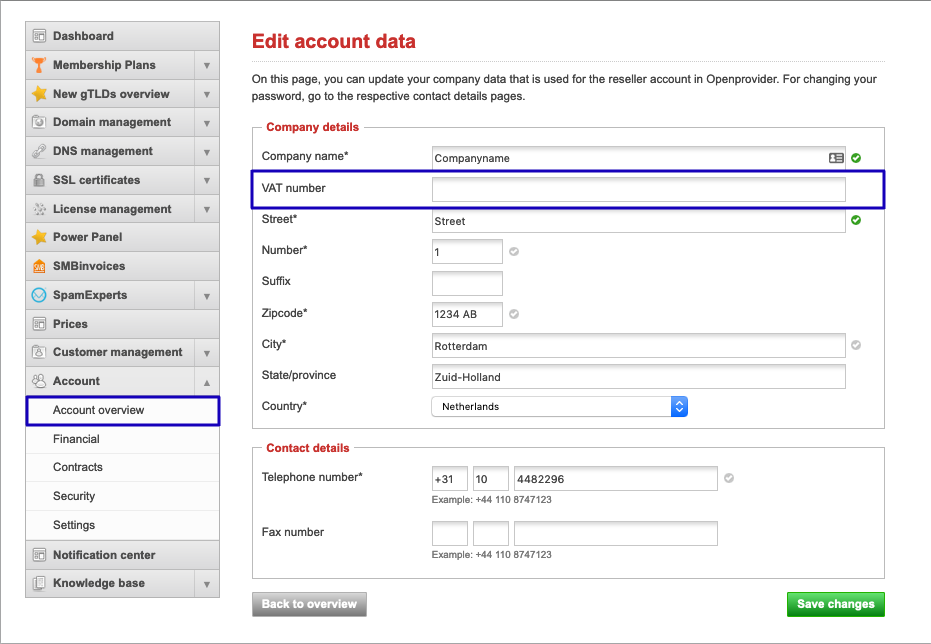 How to check if VAT is added when purchasing products
When ordering a product, one might see the price "including VAT"
This does not mean necessarily that VAT is being charged.
If the total price and VAT-included prices are the same, that means that no VAT is charged.
If there is a difference in both prices, VAT is charged.
See examples below of a Plesk order where no VAT is added vs 21% VAT addition.