Question
What is a Glue Record? Can a Glue Records be created in Openprovider?
Answer
Glue Records are the entries that must be created in the registry to allow correct DNS resolution of domains whose nameserver objects comprise of the domain name itself.
Imagine that one registered the domain example.com and then uses the same name as a nameserver to create ns1.example.com and ns2.example.com.
The problem is that whenever one wants to access example.com one will have to request ns1.example.com or ns2.example.com to resolve the address. This can become a loop without prior knowledge of the address of ns1.example.com.
The solution is Glue Records. It creates an A record to one's server so that when trying to resolve ns1.example.com IP.
Although Glue Records are created, you must also create the A records to the respective hosts IP (ns1.example.com and ns2.example.com) in the DNS zone of the domain.
As long as the domain is registered in Openprovider, you can create a Glue Record here.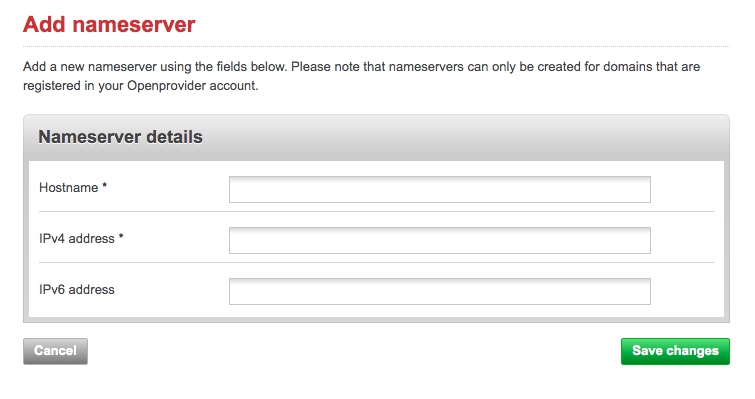 IMPORTANT: With this tool one can create a Glue Record of a domain but one cannot add an IP to the nameserver. This is something that must be done from the server where the domain is hosted, not from Openprovider RCP.
Our system takes the IP of the nameserver, which appears by digging the DNS. Our system checks the nameservers' IPs several times a day, so the change is not instantaneous.